Details
HailiCare Back Belt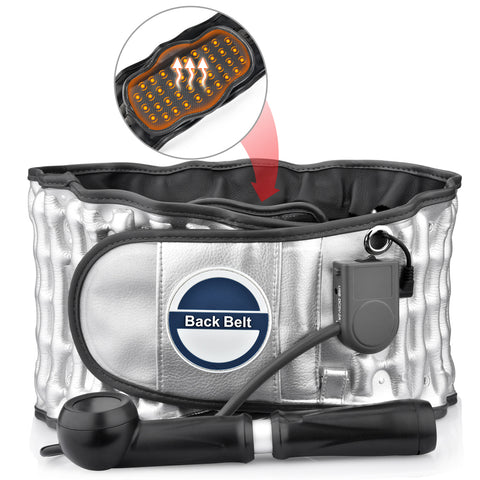 FEATURE:
1.Reduce the pressure of the disc: to promote intervertebral disc back to the lifting of the nerve root and other organizations to stimulate and oppression.
2.Eliminate inflammation: promote blood circulation.Lift muscle spasms, improve local blood circulation.
3.Sustained traction:But the traditional traction method is carried out in bed, can only be intermittent once a day, every patient out of bed home or exercise, oppression in the upper body Gravity, back to the nucleus of the nucleus will be under pressure again, Cause come to naught, recurrent.Hot moxibustion therapy lumbar traction according to the principle of traction development, and the successful use of vertical traction, and then to achieve traction - sustained traction - sustained support the unique effect.
Note:
CR-161 heat treatment lumbar traction sub-low temperature and high temperature two files, according to the need to adjust to the appropriate temperature, can also be used as personal needs do not use hot moxibustion therapy.Cannot used it when sleeping.
SPECIFICATION:
Iterm: CR-161 heat therapy lumbar traction device
Product size: 112.0 × 20.0cm (inflatable expansion) 
Belt Extension:22 * 11cm
Color:Silver
Package include
1x belt
1x extension belt
1x pump
1x English manual
1x packge box
1xUSB line
We offer lOCAL warehousing shipping service throughout our network, which is connected with our management system to maximize efficiency, productivity, and speed.usually it takes 8-15 business days worldwide.
We accept various payment methods including PayPal, VISA, mastercard, ApplePay and AMEX.
HailiCare was created in 2013, born from a demand by a society that was becoming more and more conscious of their health, lifestyle and environmental choices. Exercise, diet and food labelling were all hotly discussed topics. Skincare was also becoming increasingly important, however while people were trying to avoid toxins and harsh chemicals during their morning and evening skincare routine. People all realised that It is indispensable to restore skin to its optimum health maintenance and skin care vitality.