Details
Hailicare Spinal Air Decompression Back Belt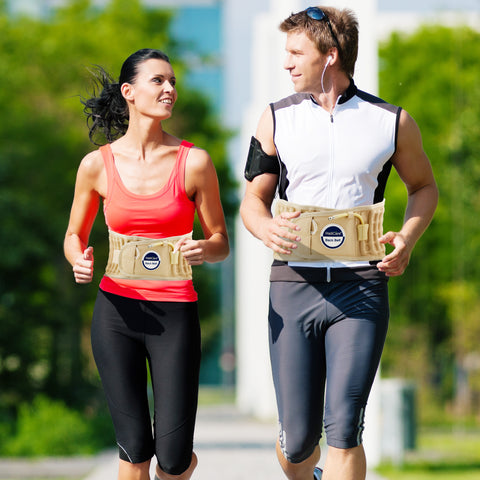 The item can be used for prevention and adjuvant therapy of lumbar vertebra diseases such as 
lumbar Intervertebral disc protrusion, disturbance of lumbar joint, hyperplasia of lumbar vertebra 
and so on.
Item can be used for:
1. Prolapsed lumbar intervertebral discs.
2. Abnormal function of small joints of the lumbar vertebra.
3. Hyperplasia of lumbar vertebra.
4. Strenuous jobs requiring heavy lifting.
5. Long time driving or sitting.
6. Scoliosis and spondylolisthesis.
7. Low back pain caused by obesity.
Feature:
1.The belt transfers the weight off your spine
2.Decompressing the spine allowing for discs to return to normal
3.Reducing pain and pressure on pinched nerves.
4.Improving nutrient flow on your spine.
5.Aids in strengthening your core and back muscles.
Specification: 
Length o​​f traction belt: 115cm(45.2 inch)
Before Inflation Width: 15cm (5.1 inch)
After Inflation Width: 20cm (7.9 inch)
Length of extension belt: 15.0cm 
Innerlayer of air inflation :TPU (Special soft material)
Size: BELT WILL FIT MOST PEOPLE
SIZE 29 INCHES TO 49 INCHES WAISTS (adjustable)
Package include
We offer lOCAL warehousing shipping service throughout our network, which is connected with our management system to maximize efficiency, productivity, and speed.usually it takes 8-15 business days worldwide.
We accept various payment methods including PayPal, VISA, mastercard, ApplePay and AMEX.
HailiCare was created in 2013, born from a demand by a society that was becoming more and more conscious of their health, lifestyle and environmental choices. Exercise, diet and food labelling were all hotly discussed topics. Skincare was also becoming increasingly important, however while people were trying to avoid toxins and harsh chemicals during their morning and evening skincare routine. People all realised that It is indispensable to restore skin to its optimum health maintenance and skin care vitality.