Details
Hailicare professional painless hair remover machine for women body photo depiler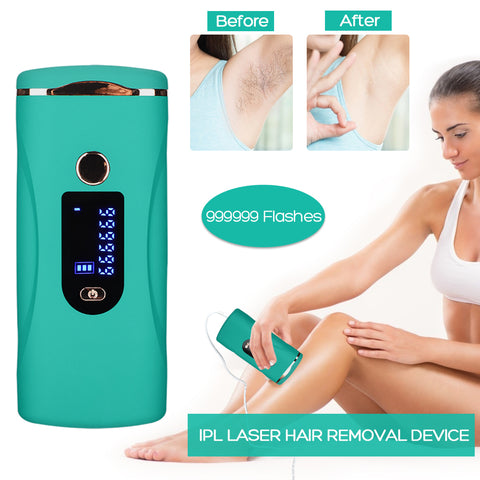 Features
1. Adopt ipl (intense pulsed light) technology for effective and instant hair removal, soft enough to avoid causing allergies or pain in your skin, powerful and long lasting to be blinked up to 999,999 times.
2. Nine levels of adjustable light intensity can fit widely different skin types, can be used to remove hair from legs, arms, armpits, bikini area, chest, back, chin and so on.
3. High quality abs body and seamless light head made in a delicate finish for no light leakage, reliable for greater application safety.
4. Clear led display can carefully provide real-time monitor and direct indication of remaining flash times, gears of intensity and battery power.
How to use ?
1. clean the main filter of the device with a soft cloth.
2.wet the hair and remove the hair with a razor.
3.connect the power adapter.
4.press the switch button until the screen is on.
5. when the screen is bright, the device is ready.
6.wear goggles and short press the switch button to adjust the intensity gears.
7.press the device on the skin vertically at 90 ° to ensure that the skin is in full contact.
8.press the flash button to send a flash (if the temperature is too high, it means that the gear you have chosen is too high. Highly suggested to start from first gear).
9.after the device sends a flash, change the epilation position to deal with the desired part.
10.press and hold the switch button to turn the device off and cut off the power supply.
Specifications
Technology: intense pulsed light (ipl)
Material: ABS
Shield color: green (as the picture shown)
Plug type: usa plug / eu plug (optional)
Light intensity levels: 9 levels
Pulse: 999.999Pcs
Wavelength: 5530nm
Rated voltage: 100v-240v
Input power: 36w
Light wave coverage size: 3 * 1cm (3cm2)
Power supply method: plug-in
Operating environment: temperature: -10 35 35 35 ℃, humidity: 30% 75%
Size: Approx. 16.3 * 7 * 3cm / 6.41x2.75x1.18inch
Package Includes:
1 * Main unit
1 * Power adapter
1 * User Manual
1 * Goggles
1 * Manual Shaver
We offer lOCAL warehousing shipping service throughout our network, which is connected with our management system to maximize efficiency, productivity, and speed.usually it takes 8-15 business days worldwide.
We accept various payment methods including PayPal, VISA, mastercard, ApplePay and AMEX.
HailiCare was created in 2013, born from a demand by a society that was becoming more and more conscious of their health, lifestyle and environmental choices. Exercise, diet and food labelling were all hotly discussed topics. Skincare was also becoming increasingly important, however while people were trying to avoid toxins and harsh chemicals during their morning and evening skincare routine. People all realised that It is indispensable to restore skin to its optimum health maintenance and skin care vitality.