Details
Hailicare Inflatable Neck Massager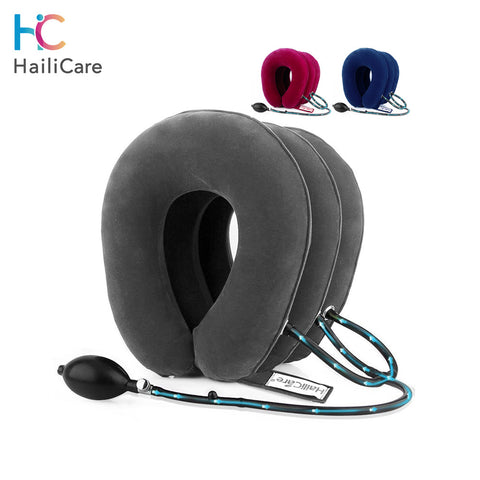 Specification:
Name: Inflatable Air Cervical Neck Traction
Color: Red, Grey, Blue, Brown
Size: One size, adjustable
Feature:
1. This traction device supports the neck: while elevating the jawbone. This creates optimal spine alignment, which relieves tension in your nerves. Many people experience back, spine and shoulder pain relief and spasm relief.
2. No assembly required. Step-by-step instructions ensure you're getting the best use of our cervical traction unit. We know how important it is to have detailed instructions and we want you to be as comfortable as possible
3. No matter where you are on stiff days, experience spinal traction at home or on the go. It's soft, lightweight and small enough to fit in your suitcase, purse, car or backpack.
4. This cervical pillow is easily adjustable so you can control the amount of air for a comfortable spinal stretch to relax your neck and shoulders.
Package include:

1 * Cervical Neck Traction
We offer lOCAL warehousing shipping service throughout our network, which is connected with our management system to maximize efficiency, productivity, and speed.usually it takes 8-15 business days worldwide.
We accept various payment methods including PayPal, VISA, mastercard, ApplePay and AMEX.
HailiCare was created in 2013, born from a demand by a society that was becoming more and more conscious of their health, lifestyle and environmental choices. Exercise, diet and food labelling were all hotly discussed topics. Skincare was also becoming increasingly important, however while people were trying to avoid toxins and harsh chemicals during their morning and evening skincare routine. People all realised that It is indispensable to restore skin to its optimum health maintenance and skin care vitality.