Details
Hailicare face skin Scrubber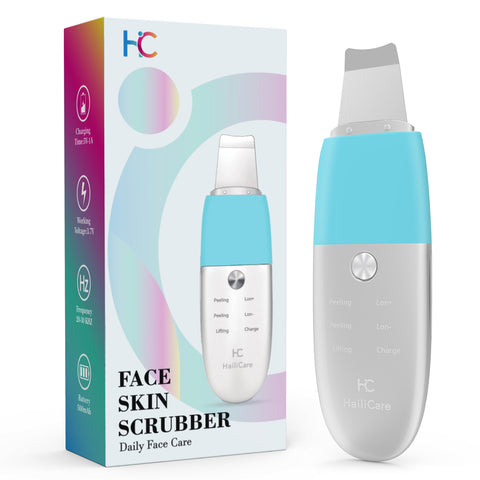 FEATURES
1.Facial Deep Cleansing:Through high-frequency vibration,Up to 25000/s ultrasonic vibration, Hailicare skin scrubber can help to remove blackheads,pores,acne,Comedones,dead skin,whiteheads and makeup oil dirt.
2.Upgrade Skin Scrubber: Hailicare blackhead remover has 3 modes ,Cleansing(Peeling Lon+),moisturizing(peeling Lon-) and lifting. Cleansing mode can deeply remove and clean dirt and oil.Moisturizing mode can enhance leading-in nutrition and promote the absorption of skin care products.Lifting mode help you lift and tighten skin and reduce wrinkles.
3.EMS Pulse Lifting Skin: Skin Spatula EMS pulse can promote blood circulation and accelerates metabolism,renews skin cells,softens old keratin, relieves melanin and firm wrinkles.
4.Safety&Easy to Operate: Hailicare ultrasonic skin scrubber is made of 100% stainless steel for all Skin condition,for dry, oily, or even sensitive skin.Pressing and hold the power button for 2 seconds to turn on the device,3 modes can be choose.(Note: do not use the device when charging)
High Frequency Vibration Technology

Atomization - Atomizing the aqueous medium into blisters
Bursting - Continuous vibration pushes the tiny bubbles to burst
Attacking - Rush into the pores to attack deep dirt and crack them into small particles
Detachment - Small particles detach from the skin surface
Working Modes

Cleansing Mode(Peeling Lon+) : Deep remove blackheads , dead skin , acne clean pores and other dirt effectively
Moisturizing Mode(Peeling Lon-) : Help to absorb skin care nutrients in to skin
Lifting Mode : EMS pulse , skin massage , and promote better blood circulation , tighten the skin , and Lift wrinkles
Functions:

1. Remove blackheads , dead skin , acne
2. Shrink pores , the large pores effectively improved
3. Lift up your face , tighten the skin
Before Use & After Use

1. Helps to clean the blackheads after open the pores.
2. Shrink pores, the large pores significantly improved.
3. Help to fade face wrinkles and tighten the skin
Usage

1. Clean your face with facial cleanser open pores by hot towel or stream
2. Turn on the skin scrubber , and choose the peeling ion+(cleansing mode) , gently move it forth
3. Apply with your skin care products , and choose the peeling ion-(moisturizing mode)
4. Choosing lifting mode , help you lift up wrinkles and tighten the skin
Package include:
1* Hailicare face skin Scrubber

We offer lOCAL warehousing shipping service throughout our network, which is connected with our management system to maximize efficiency, productivity, and speed.usually it takes 8-15 business days worldwide.
We accept various payment methods including PayPal, VISA, mastercard, ApplePay and AMEX.
HailiCare was created in 2013, born from a demand by a society that was becoming more and more conscious of their health, lifestyle and environmental choices. Exercise, diet and food labelling were all hotly discussed topics. Skincare was also becoming increasingly important, however while people were trying to avoid toxins and harsh chemicals during their morning and evening skincare routine. People all realised that It is indispensable to restore skin to its optimum health maintenance and skin care vitality.