Details
Hailicare care about your knee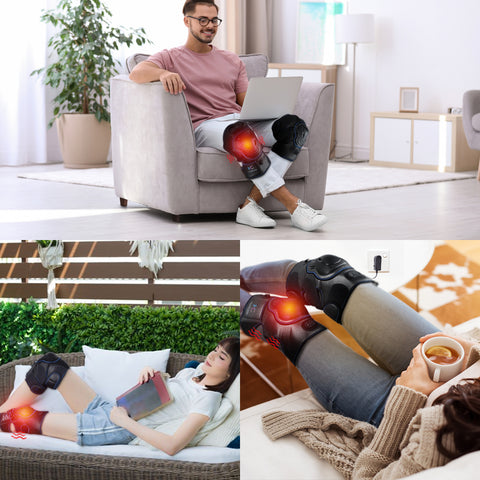 Features:
GREAT VIBRATING & HEATING COMBINATION - The updated version electric heating knee wrap massager combine with 3 temperature setting and 3 vibrating modes. Massage and heat modes seperately controlled by 2 buttons. Heating and vibration massage modes can also work together or separately. Helps reduce knee pain and soreness. Stimulate blood flow and encourage good circulation in the muscles surrounding the knee.
3 ADJUSTABLE HEATING MODES - Temperature can be adjusted from 45℃/113℉ to 60℃/140℉, you can adjust the heat level to accommodate your comfort level. Triple experience for your different needs. The power button with LED indicator, it can be operated to red-highest, blue-medium, green-lowest temp setting. Short press the button for once can change the heating setting. With built-in thermal protection module, once it is overheating, it would stop until the heat return to the standard temperature.
USE For BOTH HOT & COLD THERAPIES - Simply heating it for hot therapy or place a ice pack (not included) in the built-in mesh bag inside the knee wrap for cold / ice therapy! Use heat therapy for chronic muscle pain or sore joints caused by arthritis. Use cold therapy for recent knee pain or injuries to help reduce blood flow to an injured area. This slows the rate of inflammation and reduces the risk of swelling and tissue damage. Remove your pain instantly and feel relief!
8.4V POWERFUL RECHARGEABLE POWER BANK- Come with 8.4V 2600mAh power bank, which offers unmatched power to the heating knee pad. It can work lasts up to 5 hours with full charge using all 2 functions.
PORTABLE KNEE HEATING WRAP - Designed to wrap around knees, Comfortable brace with easy to wear designed. Comes with an adjustable strap allowing for a variety of sizes from smaller to larger knees while giving you plenty of freedom to move.
Three Temperature Modes
Red - Highest temp (55℃/131℉ to 60℃/140℉)
Blue - Medium temp (50℃/122℉ to 55℃/131℉)
Green - Lowest temp (45/113℉ to 50℃/122℉)
Heat can be used with/without massage
Three Massage Modes

Red-High Frequency Vibration
Blue-Medium Frequency Vibration
Green-Lower Frequency Vibration
Massage can be used with/without heat
2 Power Bank -Last up to 5 Hours
Come with 2 8.4V 2600mAh batteries, portable and convenient for outside.
It will last up to 5 hours with full charge ( Full charge 2-2.5 Hour ).
You can use heated and vibration knee brace during relax or activities,you can use it at home, office, flight, car, travel, ect.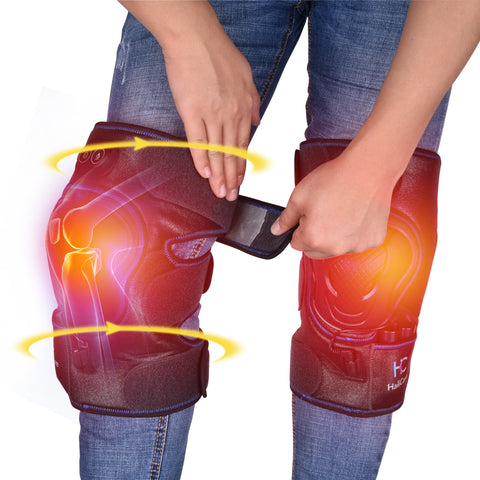 Universal Fit (One size fits most)
Have doubts if this will fit you? Worry no more! This will fit for adult men and women.
Perfect gift for someone you knew, it would be a lovely surprise!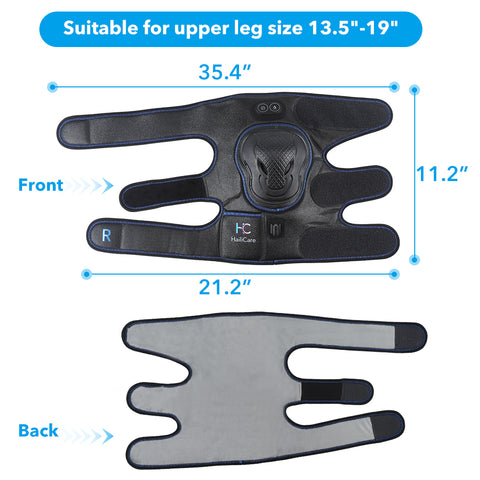 HOW TO USE:
Long press the switch for 3-5 seconds to turn on / off the heating / vibration massage function.Short Press button to adjust the heat/ vibration level.
Step 1 -Wear the left and right knee wrap messager;

Step 2 -Connect the cable with the left and right knee brace then put the adapter pluging into socket. / Connect the cable with power bank and left and right knee brace;

Step 3 -Long press the both button for 3-5 seconds to turn it on/off and short press to switch the mode.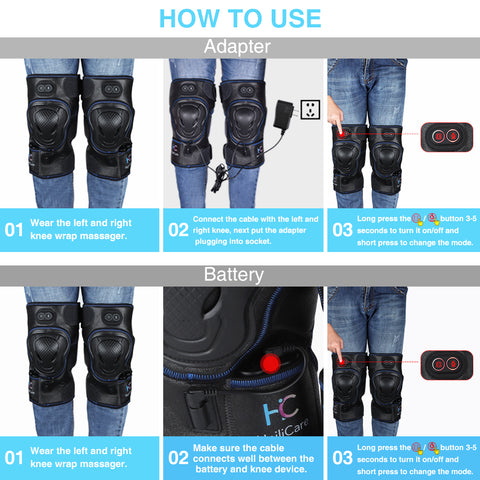 Notes:
Don't use this product when sleeping;
Disconnect the power plug if the device is not in use;
Patients with acute edema or bleeding on the knee should consult a doctor before using;
Patients suspected of edema, bacterial infection, or other specific inflammation caused by acute trauma, please consult a doctor first;
When use of this product is more painful than before, stop using it immediately.
Specifications:
Brand:HailiCare
Weight:1.36 Kilograms
ASIN:B07XGG59BZ
Package Included:

1*Left and Right Knee Massager
1*8.4V Adapter
1*2600mah Power Bank
1*User Manual
1*Portable Bag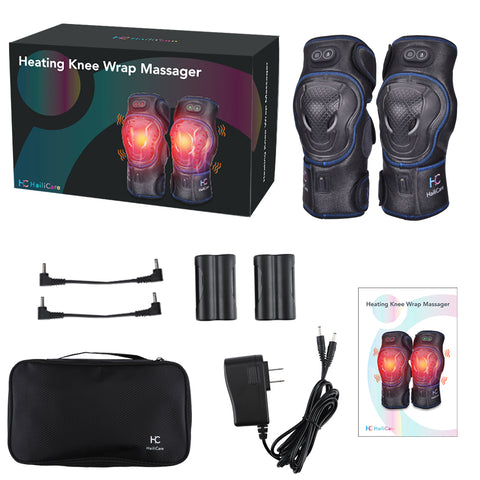 We offer lOCAL warehousing shipping service throughout our network, which is connected with our management system to maximize efficiency, productivity, and speed.usually it takes 8-15 business days worldwide.
We accept various payment methods including PayPal, VISA, mastercard, ApplePay and AMEX.
HailiCare was created in 2013, born from a demand by a society that was becoming more and more conscious of their health, lifestyle and environmental choices. Exercise, diet and food labelling were all hotly discussed topics. Skincare was also becoming increasingly important, however while people were trying to avoid toxins and harsh chemicals during their morning and evening skincare routine. People all realised that It is indispensable to restore skin to its optimum health maintenance and skin care vitality.